ST. LUKE'S • SHERBURN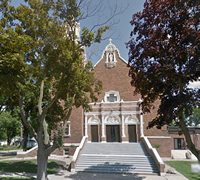 303 S. Lake St.
Sherburn, MN 56171
507-407-2944
goodshepherd@triparishcommunity.org
Welcome to St. Luke's Catholic Church!
The people of St. Luke's welcome you to our parish! We are a small rural parish, but rich in tradition, faith and hospitality.
Our parish was officially established in 1888; however, area Catholics began celebrating Mass together almost 20 years earlier in homes, hotels and local business. Today we worship in a beautiful brick structure built in 1921. It is located in Sherburn, but people from Ceylon, Dunnell, Fairmont, Sherburn, St. James, Trimont and Welcome call St. Luke's home.
We hope, whether you are just visiting or you are looking for a parish family to call your own, you will experience Christ and all that is good about His Church when you join us for Mass or some other celebration of faith. God bless!