ST. JOSEPH'S • LAKEFIELD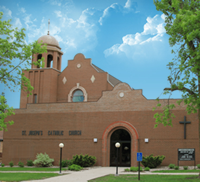 410 Broadway Ave.
Lakefield, MN 56150
507-662-5819
sjcc@triparishcommunity.org
Welcome to St. Joseph's Catholic Church!
Located in the heart of Jackson County in the southwest corner of Minnesota, St. Joseph's parish in Lakefield has served the spiritual needs of area Catholics for over 100 years. Throughout the years we have been shepherded by many wonderful priests, their flocks coming from many walks of life forming the parish family of St. Joseph's. Parishioners cherish and continue to care for the beautiful church building provided by those who have gone before them and grateful for all the sacraments celebrated together as a parish family in it.
St. Joseph's is blessed with a wonderful Faith Formation program and many dedicated catechists helping all to grow in their faith. The Council of Catholic Women and Knights of Columbus organizations continue the work of Christ by helping fulfill many parish and community needs.
The tri-parish of Good Shepherd of Jackson, St. Joseph's of Lakefield and St. Luke's of Sherburn was formed in 1997 and we continue to grow as sister parishes to meet the needs of all the families.